● So why are grey bathrooms now so popular?
● How you can achieve the grey bathroom look
● Finishing touches
Jump to a section of this post by clicking a link above.
The colour grey; it doesn't exactly inspire the happiest of emotions does it? Whenever I think of grey I picture approaching rainclouds, old pavements and the back of train seats (I spend a lot of time on public transport sadly!) So why then is it now the must-have colour for your bathroom? Over the past year or so there has been a sharp rise in its popularity, with plenty of settings now featuring the hue; and let's face it it's impossible to deny the fact that it does work surprisingly well.
So why are grey bathrooms now so popular?
There are numerous reasons for this. The first is down to the fact that it is a neutral colour so having a grey bathroom makes sense as these hues don't go in and out of fashion constantly unlike brighter and braver colour choices. This is handy as it means that you won't be ripping your bathroom out in a year's time.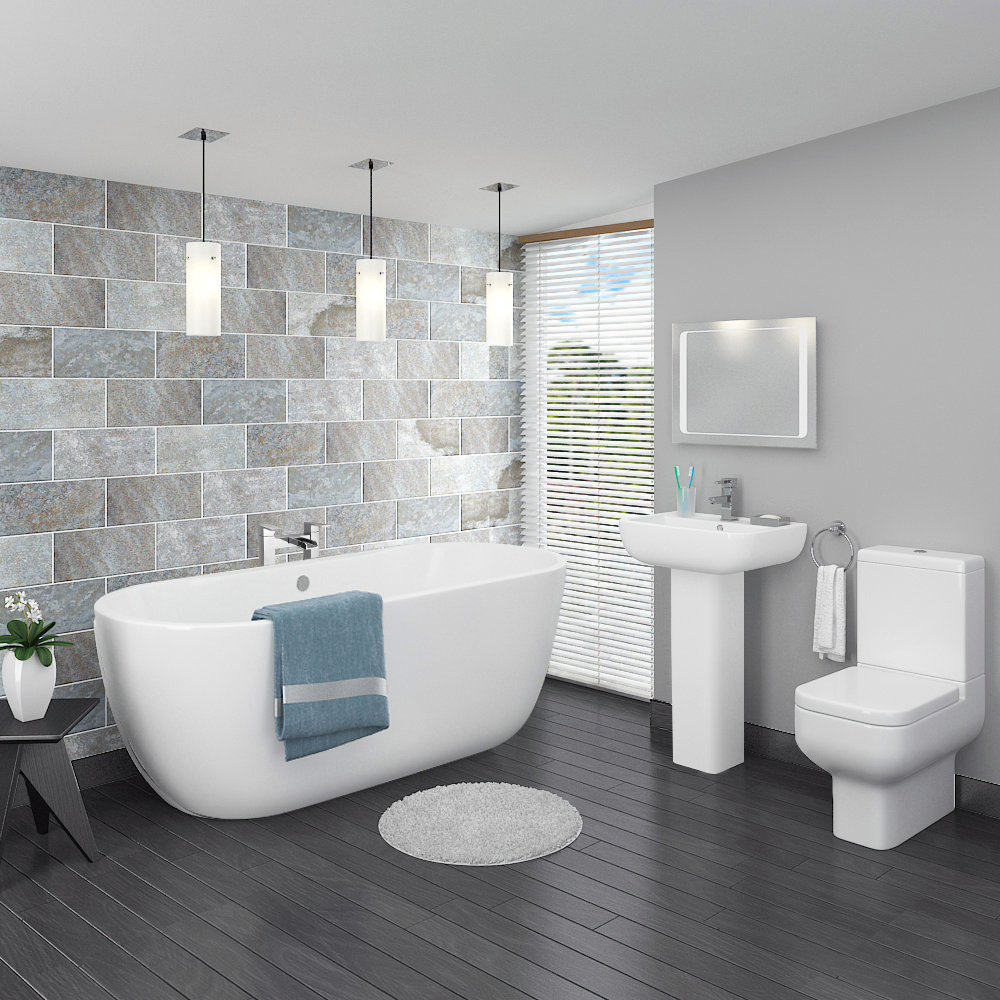 Another reason is down to the growing trend for ultra-modern bathrooms. Grey works unbelievably well in minimalist settings, complementing the look of smooth, contemporary surfaces and giving the room a purposeful yet somehow sophisticated vibe. It's when you take a look at some of these modern examplesthat the allure of grey bathrooms starts to make sense…
How you can achieve the grey bathroom look
Ok, so now you know why it's popular, I think now's a good time to discuss how you can create the look in your own bathroom.
The most obvious way to add the colour is by either painting the walls or adding tiles. There are various tones you can go for if you plan on using paint, while there's also a large range of grey bathroom tiles to choose from to get the effect.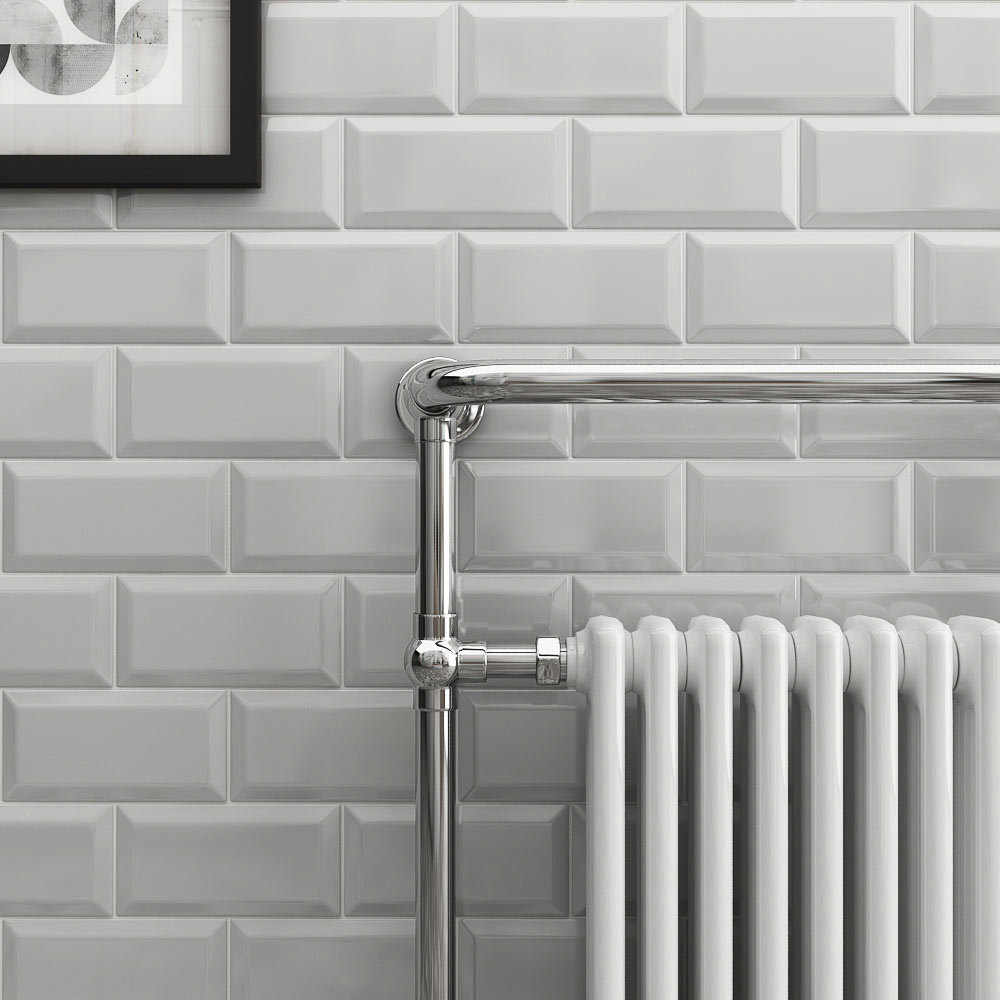 Grey metro tiles are one of the most stylish options as they really bring a touch of character to a room. The advantage with these is that you can cover an entire wall; cover just half a wall and paint the other half, or maybe even just use them to highlight a specific section of the room such as an alcoves or shower enclosures. They always look fantastic regardless of how you arrange them so definitely keep these in mind.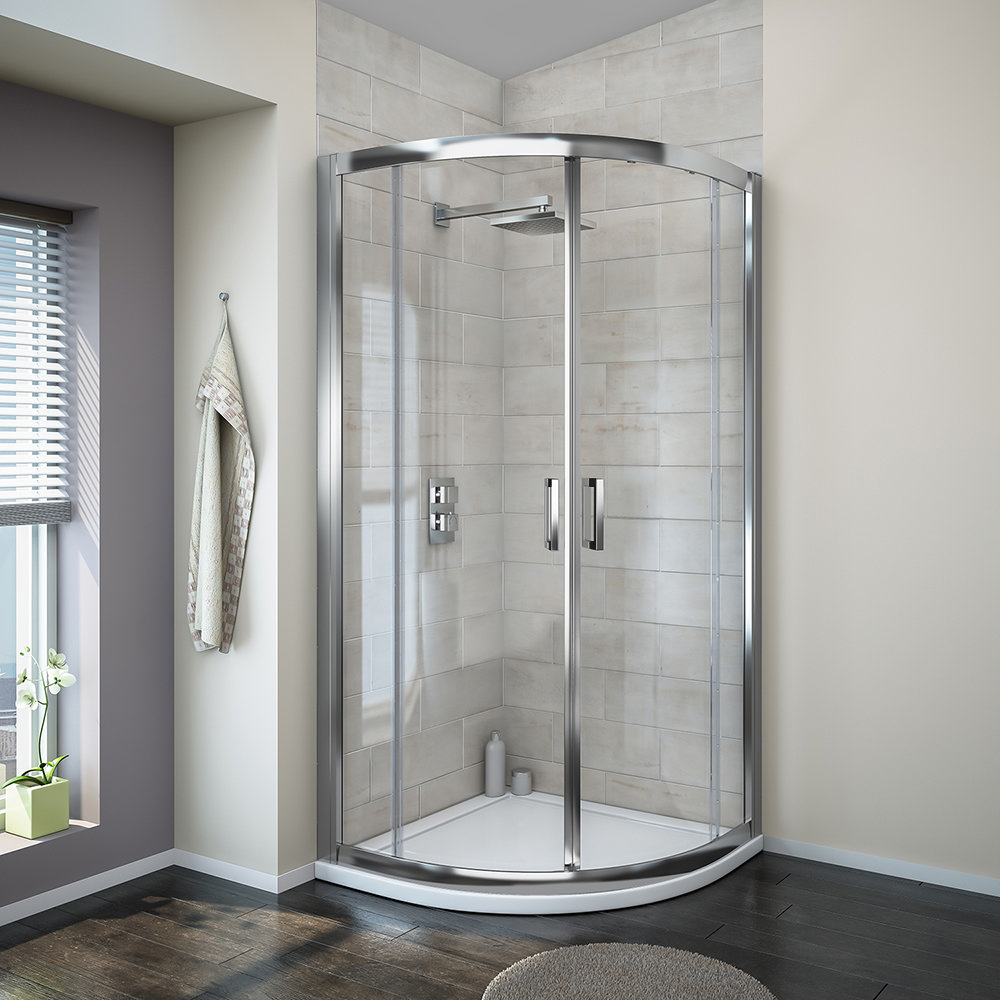 With the walls covered (no pun intended!) your attention should then be focused on what fixtures and furniture you want to go for. Your choice of suite depends on whether you want an ultra-modern look or a slightly more traditional approach. If you do decide to go traditional, why not go for a classic claw foot bath as you can always paint the body of it to match the rest of the room!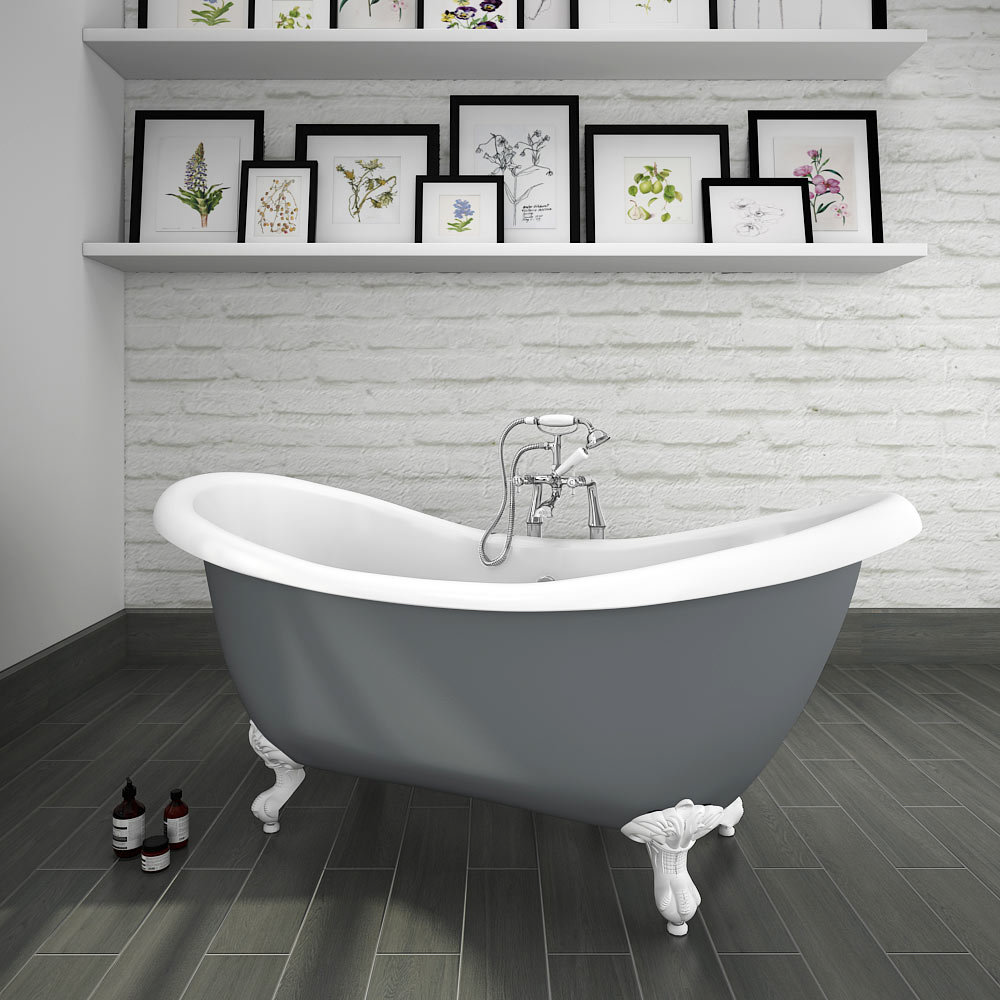 To keep things coordinated, there's plenty of grey bathroom furniture out there, from storage cupboards to wall hung vanity units so you're well catered for in this area. Pay attention to the rest of the room here, as a sleek, modern vanity won't look right with a traditional suite, and a unit with raised panel detailing won't really suit a minimalist setting. You want each aspect of the room to flow together naturally and create a harmonised overall effect.
Finishing touches
With your suite in and your furniture looking good, the next step is to think about those all-important finishing details. These are important as they can really bring the whole room together.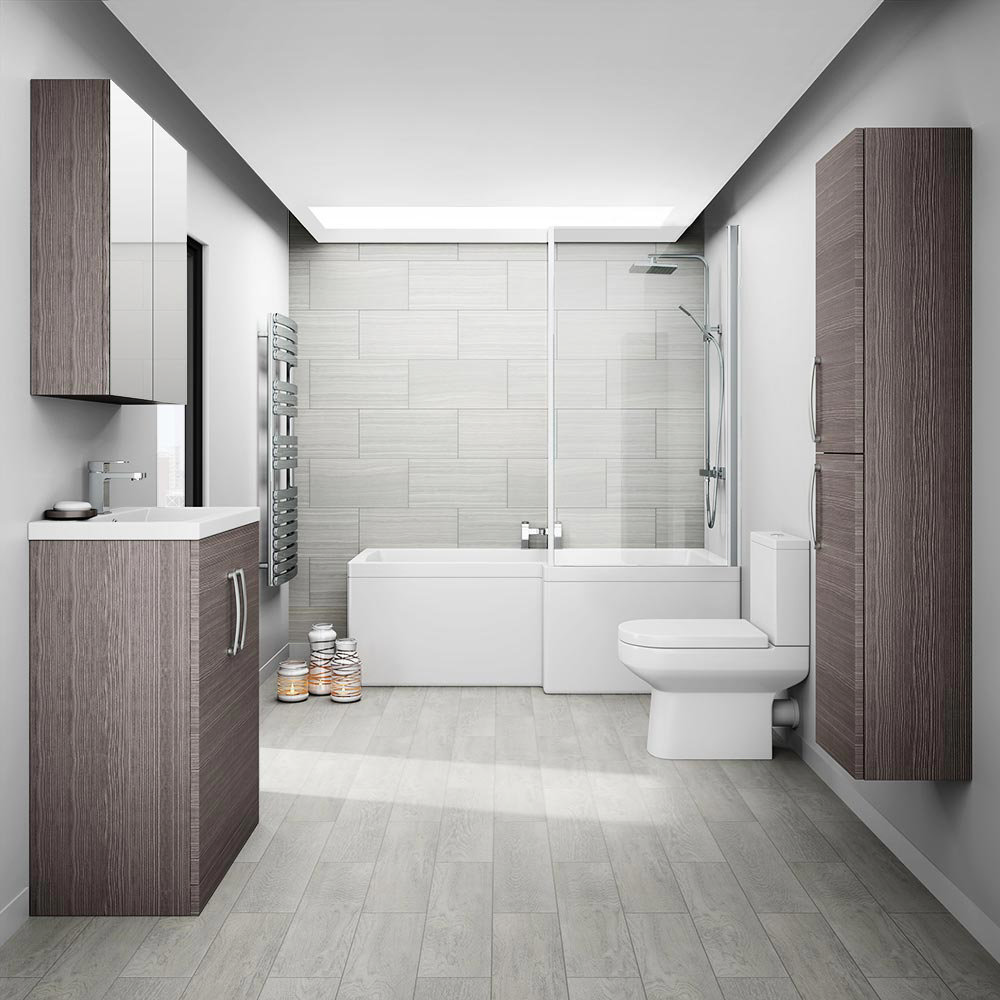 You can get anthracite coloured designer radiators in both modern and traditional designs which will add some more eye candy to the room and keep things warm during the winter, while the placement of tasteful accessories will also bring things to life. Bathroom sets, bathroom towels and laundry baskets are all available in grey and are simple grey bathroom ideas that will help to complete the look, while a selection of matching canvases or framed paintings will also work wonders.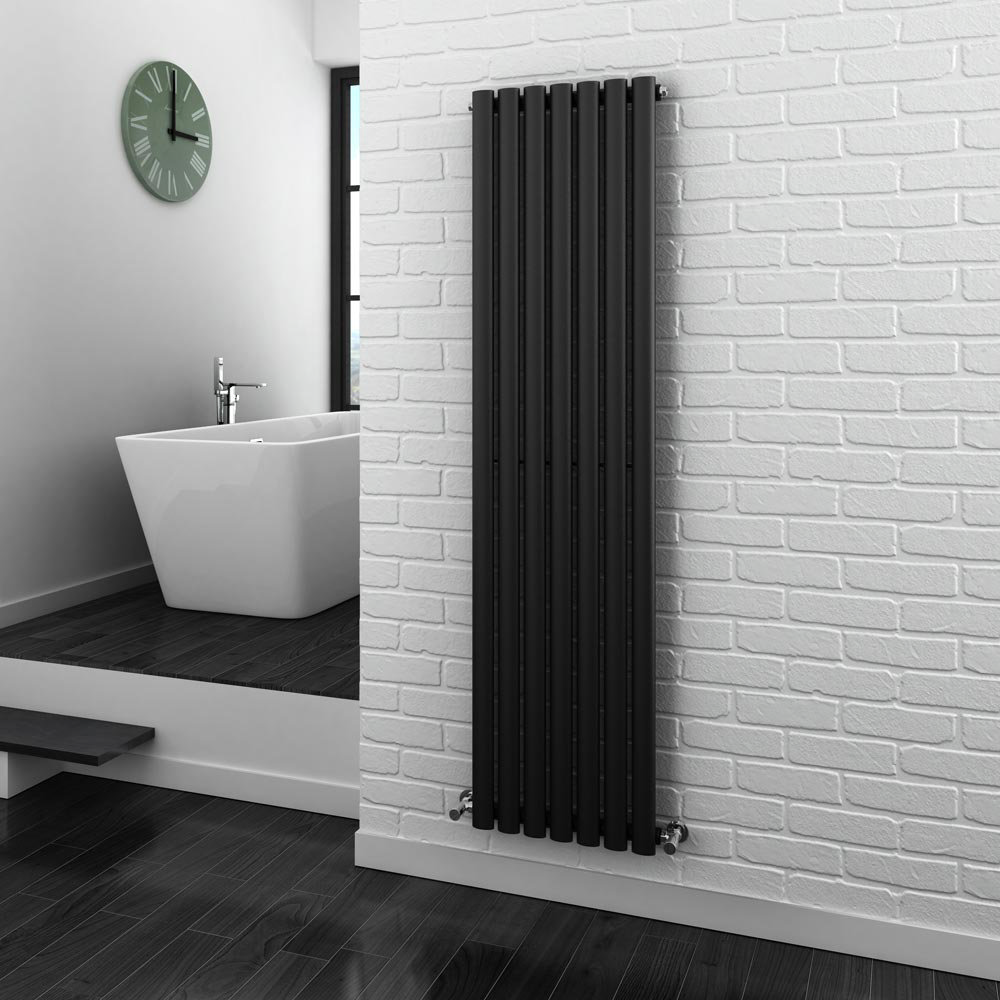 Creating a gorgeous grey bathroom isn't difficult; all you need is a keen eye for detail and a good idea of what you want the finished result to look like before you begin and that's half the battle won really.
And would you believe it, I got to the very end of writing this blog without once making a reference to a certain well-known trilogy of books – Result!
I really hope you have picked up plenty of grey bathroom ideas from this expert buying guide. Grey bathrooms are so very on trend in bathroom design right now and I hope we have swayed you a little towards this universal colour. Thanks for reading and good luck with your grey bathroom design.